2015的罗德岛华人协会春节庆祝会齐聚了多方力量,在大家的共同努力下获得成功。感谢所有的观众,演出人员,赞助者,到场祝贺的各位嘉宾,在幕后辛勤劳动的义务工作者们,以及各位充当司机的爸爸妈妈,爷爷奶奶们。

Our 2015 Year of Ram Chinese New Year Celebration exemplifies another wonderful achievement through the joint efforts of multiple groups.We'd like to express our gratitude to all the people in the audience, the performers on the stage, our sponsor, VIP guests, all the volunteers working behind the scene, and many parents working as free drivers.

在庆祝会上,当天到场为大家服务的华人协会奖学金获得者应邀上台与大家见面,四月我们将举行奖学金颁奖会,2016的奖学金评选活动将于秋天开始启动,敬请大家关注。

Some winners of the 2015 RIACA Scholarship were among the people who served the audience. The brilliant boys and girls were invited to the stage to be recognized. The Award Ceremony of 2015 RIACA Scholarships will be held in April. Also, RIACA Scholarship Committee will start to accept applications for 2016 in fall. Please come back later for more information.

没有众多义务工作者(包含所有华人协会的董事会成员)的付出,我们的各次活动不可能完成。我们希望更多的朋友加入到服务社区的行动中,让生活更加美好。

None of the events we organized through the years could have been carried out without the hard work of many volunteers, including all the RIACA Board Directors. Sincerely we hope more and more friends can join us to serve the community and make Rhode Island a better home.

下面有一些庆祝会的照片与大家分享。查看更多的照片请点击:https://onedrive.live.com/?cid=36f4606706ec59bd&id=36F4606706EC59BD!5620&ithint=folder,jpg&authkey=!AMsVa89sGBnx7xs (所有照片由饶斌提供)

有一些节目的录像可以在YOUTUBE上查看,请点击:https://www.youtube.com/playlist?list=PLdnTCwhsi19V0MAkhJd-GLQP2wRmmdxZm (由LeonYe 提供)

Below are some pictures from the celebration. You can also click on the links above to view more pictures and video clips. (courtesy of Bin Rao and Leon Ye)

最后,衷心地祝大家羊年大吉大利,健康愉快,学业有成,事业进步!

We wish all of you a healthy, happy and prosperous Year of Ram!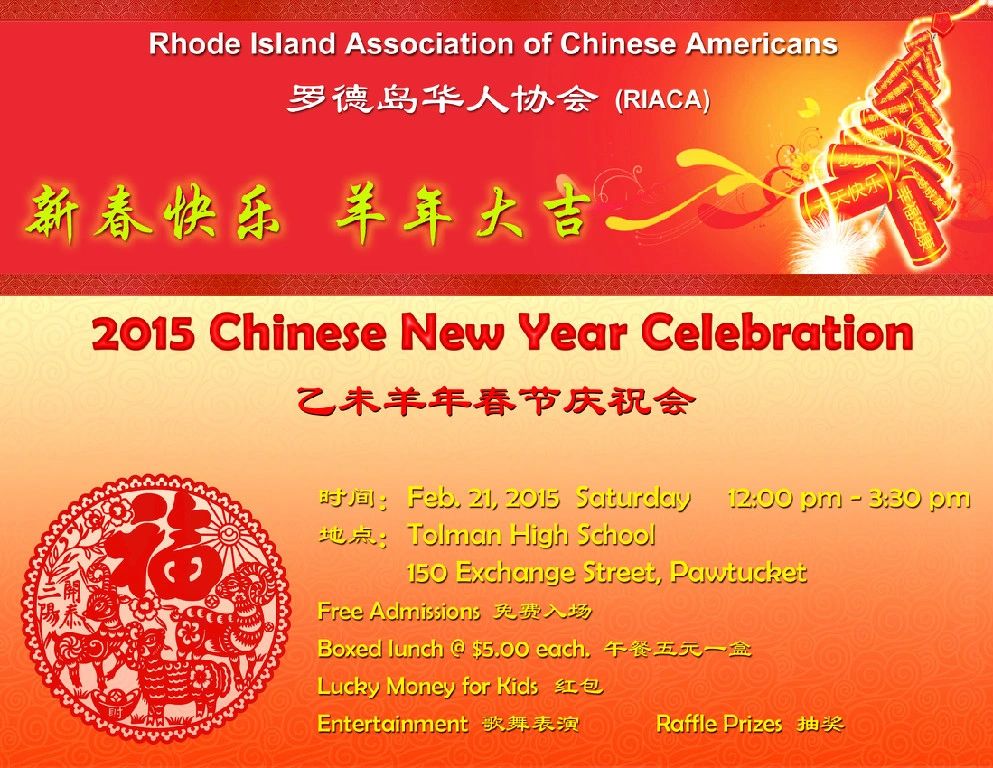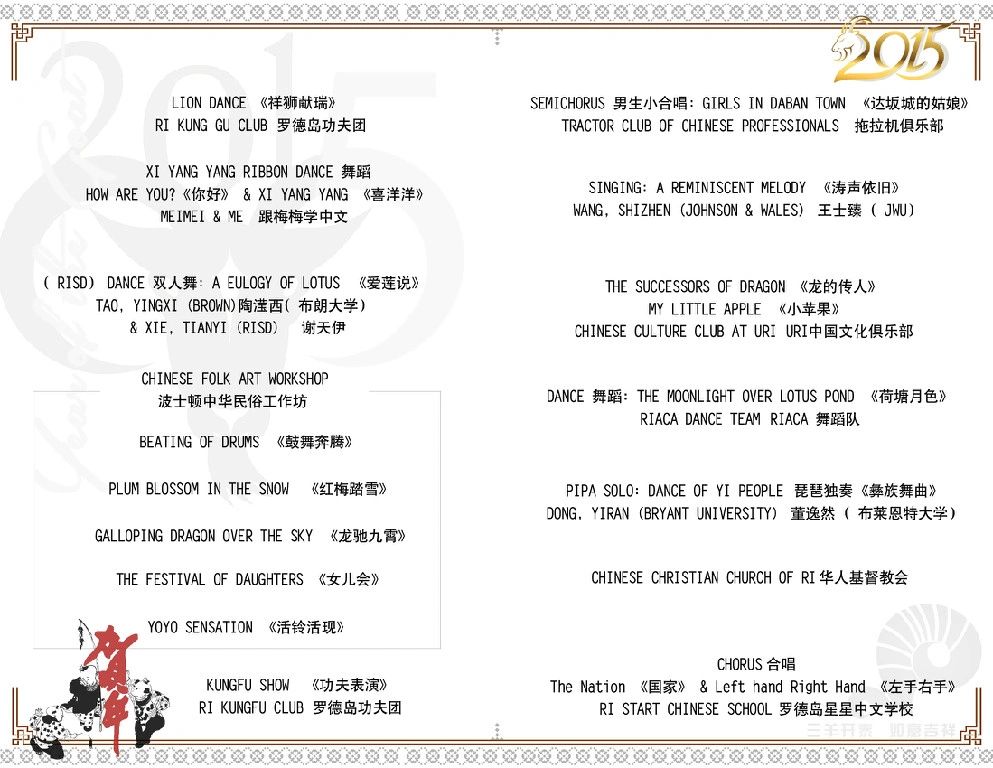 (Poster and program are designed by Xiaojun Zhang)

Emcees: Claire Golde (left) and Sandra Chan (right)